Types of Braces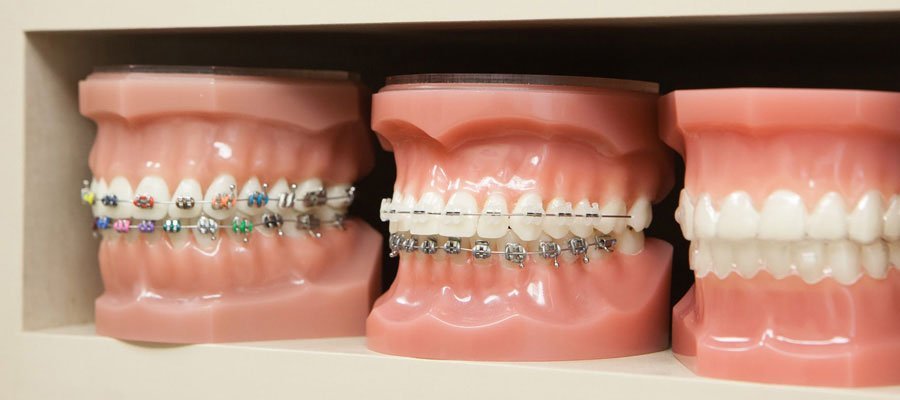 These days, Orthodontists offer more kinds of braces than ever before. Dr. Nima Mir gives children, teens and adults a variety of different braces to choose from, whichever fits their lifestyle most.
One option is the Metal braces/Traditional braces. These braces are what most people tend to think of when the word "braces" is said. The modern type of these braces are smaller and less noticeable than they were back in the day. Metal braces/traditional braces are the least expensive type and there are lots of different types of colour bands to choose from.
Another option of braces are Ceramic Braces. These braces are the same size and shapes traditional braces. The brackets on ceramic braces are clear or close to tooth-colour, which makes them blend in with a persons teeth. There is even the option to use tooth-coloured wires, which makes them blend in even more. Ceramic braces move teeth much fast than more clear aligners, such as Invisalign.
Lingual braces are also an option. These braces are just like the metal/traditional braces but they are placed on the inside of the teeth. Since they are placed on the opposite side of the teeth, as other braces, they are nearly invisible from the outside of the mouth. Lingual braces do tend to be more expensive and are not appropriate for severe orthodontic cases.
Lastly, another option of braces is Invisalign. These type of braces are mouth guard-like clear plastic aligners. They consist of a series of 18 to 30, all custom made. These aligners are replaced every 2 weeks and are removable. Many adults and teens are choosing Invisalign because patients can drink and eat whatever they want, and they are almost invisible. Invisalign won't work for serious orthodontic cases and are a more expensive option.
Every patient is different, so come see Dr. Nima Mir to discuss your options regarding orthodontic treatment.