How to Keep Your Braces Clean?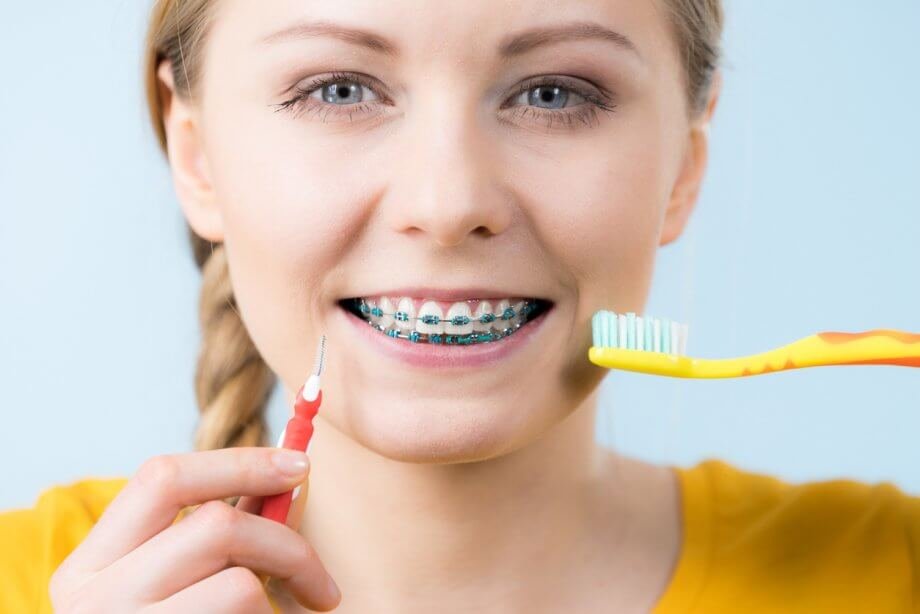 Orthodontic treatment is a significant financial investment in anyone's life.
You must take care of your teeth, especially if you have braces on. Your teeth may require more attention during orthodontic treatment, but it will all be worth it. Keeping your braces clean is only the beginning of achieving the smile you deserve!
Here are some pieces of advice from Dr. Mir to keep your braces clean.
Act After Every Meal
In fact, no one wants to brush their teeth after each meal every day. Even if you do not feel like brushing after eating, rinse your mouth to remove food particles that may be stuck in your braces. It's a good idea to buy a travel-sized mouthwash to use when you are not at home. This can be the best and easiest way to keep your braces clean without the need to carry your toothbrush and toothpaste everywhere.
Extra Effort to Take Care of Your Braces
After choosing the best and most suitable braces, do your best to take care of them. The time required to spend on brushing is at least 2 minutes, but Dr. Mir advises keeping brushing for 3 minutes. It helps you not have any major white spots or staining on your teeth after taking off your braces.
Flossing Shouldn't Be Neglected
Maybe flossing is a tedious task, but it's crucial when it comes to keeping your braces clean. It helps remove debris, plaque, and food particles from your teeth that toothbrushes may not catch. We recommend buying a floss threader because it navigates through the braces more easily and lets you handle it more conveniently.
Certain Foods Should Be Avoided
Acidic and sugary foods can easily damage your teeth. Acidic foods like vinegar can wear away your teeth's enamel.
Candy and potato chips are just one example of sugary foods that increase the risk of cavities. The tooth cavity is one of the main reasons for pain and feelings of tooth sensitivity when you eat certain foods. If you see any of these symptoms, take action immediately.
Gentle Brush
Though braces are strong and sturdy, it's very important to use a gentle brush because tough bristles can easily cause loose brackets. Remember not to brush your teeth firmly.
Don't Forget to Brush Your Tongue
If you want to keep your breath fresh, don't forget to brush your tongue. No one likes stinky breath throughout the day. This simple act helps remove bacteria that may be sitting on your tongue.
Keep in mind that when you have braces, it's important to catch bacteria before it hides in metal.
Always Seek Alternatives.
If you forget to bring your toothbrush and toothpaste on a quick trip, don't be afraid to try alternative options. It may seem a bit odd at first sight, but always, something is better than nothing.
Coconut oil can be a great option for quick clean-up if you forget your toothbrush. It contains bacteria-fighting compounds and can even help prevent tooth decay. The other alternative is to grab some baking soda and mix it with a little water to make a quick paste to help clean your mouth. Note that this mix should not be used frequently, but it works well in the case of missing toothpaste.
Arrange an Appointment
If it is difficult for you to learn how to clean your braces, try to attend an appointment with your orthodontist and make sure you follow the schedule for a regular appointment.
Here, at York Orthodo, we respond to your questions, ready to give proper help by examining your teeth to see if anything needs to be done differently.
Be Relax
Anxiety is common in most people when they go overboard on cleaning while wearing braces. Pay enough attention to what you put in your mouth and how you care for your teeth. There's nothing to worry too much about; just relax!
How to Clean Clear Aligners
Clear aligners and braces are growing in popularity and should be treated with the same respect as braces! Make sure you completely rinse your aligners after a long day. This will assist in eliminating food particles and microorganisms. Use regular brushing and flossing, and wash your aligners with antibacterial soap and water.
Your toothpaste may be too abrasive and grippy for the aligner. Your orthodontist will probably provide you with a cleaning solution, so don't be shy about asking for more if you run out. After cleaning them, be careful to store them somewhere dry. As a last tip, make sure to always brush and floss before re-placing your clear aligner in your mouth.
Other pieces of advice
If your orthodontist, Dr. Nima Mir, has fitted you with elastics, take them out before brushing.
Use fluoride toothpaste and a soft, compact toothbrush, and place the brush at a 45-degree angle against the gums. Don't forget to rinse your mouth with a fluoride mouthwash.
Brush gently along the gum line where the gums and teeth meet, making small circular motions on each tooth.
Clean each tooth separately. Brush each tooth for about 10 seconds. Having a specific brushing pattern lets you not miss any teeth. (Take time to make sure that all plaque and debris are completely removed and you perfectly clean the upper and lower teeth).
Do not forget to brush the gaps between the wire and the tooth, and around all of the brackets and wires. A battery-powered brush could be the most beneficial.
Using a gentle circular motion, brush the inside and outside surfaces of the teeth. Use a firm back-and-forth motion for the chewing space.
Look closely at your teeth and braces in the mirror to ensure they are clean and shiny.
Here are some tips to avoid those ugly white spots on your teeth after treatment:
Before any treatment, Dr. Nima Mir will always check your oral hygiene to ensure it is in the best condition. This will reduce those "ugly white spots" from developing on your teeth. These ugly spots occur when toothbrushing is not as effective as it should be. Due to that, it is so crucial to adhere to the aforementioned oral hygiene guidelines when you have braces. If these white spots appear on your teeth, they can be lightened and reduced in size.
Ultimately, keeping your teeth healthy and clean is always critical, especially if you are undergoing orthodontic treatment. Together with your assistance, Dr. Mir and his team will work hard to ensure you get the best possible outcome.
For more tips on braces and proper treatment, make sure to check out our website and contact us.